Imagine walking in to your back yard and seeing floating above the ground a blazing ball of fire.  Now imagine the warmth and light emitted from this ethereal ball of flame. Your are able to walk around the perimeter of the flame and have a complete 360 degree view of its burning heart. Does this sound like a scene straight out of a Sci-fi movie? Believe it or not you can have this experience for yourself.
With the Landmann USA Ball Of Fire Outdoor Fireplace you can have this scene played out in your own back yard, or on your home patio. Minus the wavering mystical pipe music, of course a CD could always be found… but that is beside the point. The point is that you can have this beautiful bowl fire pit for your own home. Can you not just see your loved ones and you seating around in chairs after dark talking and sharing stories of days gone by, while you bask in the glow of the fire light?
Unusual Globe Shape
This fire pit is of a spherical shape, thus the name "Ball of Fire" is very apt. This wood burning  pit comes equipped with a pivoting cover section to allow for easy access of the fire. This comes in handy anytime you are attempting to start, or maintain a fire. A handy poker is included in the package to move the hot screen as needed.  The pivoting screen allows you to add both small and or large logs as well as adjust them with ease while the wood is burning. The screen also helps contain the fire completely within this raised fire pit.
Please remember, however, that this fireplace does need to be placed on an even fire resistant surface to help insure safety.  Stone or concrete are excellent choices for such areas. Bricks also look very good matched with the rustic charm of this  fire pit bowl.
A Fine Piece of Craftsmanship
The Landmann Company is the leading manufacturer and supplier of great outdoor and indoor products for leisure purposes in the United States.  They strive to give their customers the highest quality, and best priced products that they possibly can. This company strives for the top in value and excellence in everything they do. The "Ball of Fire" fire pit is no exception to their great reputation.
All steel construction makes this outdoor fireplace pit a sturdy and long lasting. It will last in good weather and in bad. It is a good size pit measuring 34.75" in height, 32.75" in width, and 30.25" in depth. It is made of steel so there is a bit of weight behind this unit's beauty. It weighs close to 47 pounds so it is quite portable. Keep it in place by adding sand to the bottom for more weight as per the manufacturer's instructions (sand also insulates teh ground from heat and also to help slow corrosion of the bowl due to the ashes. So once in place moving this fire pit might take two people. This is especially if the movers are young or of slight build. Remember to always practice good lifting techniques when moving any outdoor or indoor furniture.
Also, be sure to let your fireplace cool down completely before trying to move or clean this or any fire pit, outdoor stove, or grill.
What Others are saying about the 28925 Steel Bowl Fire Pit
Out of over 25 reviews and more online, this popular, top rated  fire pit bowl got an average rating of 4 out of 5 stars. Check out what they are saying here.
PROS:
"..very safe for kids.."
"..unique and functional… exceeded our expectations.."
"..very solid and stylish.."
CONS:
"..putting it together took longer than I anticipated…"
"…many parts…"
A Note From the Editor:
Those who had concerns with the fire pit had problems with the set up.  Ideally it would best be assembled with 2 persons if you are less than handy. Make sure you have the proper tools ready to ensure your job is easier. Preparation (reading the manufacturer's instructions) is key to easing frustration and to having a project go successfully.   I have also seen the unit myself. It is a good size and would make a nice feature to any backyard.
Landmann Ball of Fire 30″ Steel Bowl Fire Pit Video
Check out how beautiful this unusual and unique outdoor fireplace looks all lit up. One of our friendly neighbours has caught it on video, watch it below.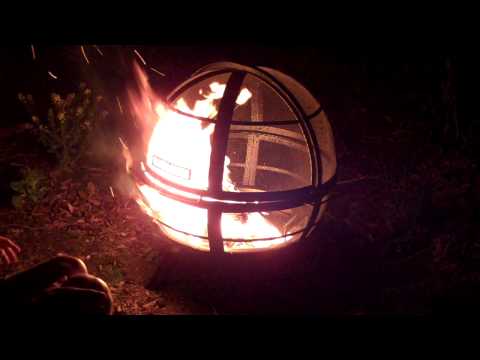 Where Can You Buy This Unique Fire Pit?
This rustic, whimsical bowl style fire pit is perfect for anyone who is looking for a unique product with an unique look. This quality unit is backed by a company with a reputation for quality.
Look in to buying one of these wonderful ball fire pits. A cover is included to help keep it around longer. In no time you will be entertaining you family and friends with your very own magical "Ball of Fire."
Go now to Amazon for the best price and look at a Landmann USA Ball Of Fire Outdoor Fireplace.