Smooth lines and minimal fuss are the hallmarks of contemporary design.  In your home and in the yard, modern shapes and sleek textures create a sense of space and help you relax away from your busy world.  For warmth and comfort packaged in modern styling the Cocoon Fires standing fireplace set in black is your ultimate choice.
A Contemporary Look That's Good for the Planet
This round fireplace is striking in design.  Shaped as a disc 24 inches (60cm) in diameter with a wide viewing area in the front, the steel construction adds to a no fuss look.  Three brushed stainless steel legs anchor the unit securely about 16 inches (40cm) off of the ground.   You'll be amazed at the illusion this unique design presents, as if the mesmerizing flames are floating in mid air.  A three legged design is also a mark of stability, creating the most dependable, strong structure around.
This flueless outdoor fireplace uses denatured ethanol for fuel, an eco friendly alternative that is much less hassle for homeowners.  No more chopping, storing or hauling wood or pellets.  This biofuel is made from all natural materials that, when burned, produce only heat, steam and carbon dioxide.  It is stored in bottles and easily sourced out.  Say goodbye to dirty soot, messy ashes and choking smoke.  And say hello to one of the most convenient, environmentally responsible fuel choices in today's market.
With a burner tray that holds just over half a gallon (or 2 liters) of the fuel made from renewable resources, the standing fireplace also has an adjustable heat system to help you maintain optimum control.  Burn times can stretch up to four hours, depending on the heat level set.
The innovative Cocoon fireplaces are the brain child of Federico Otero, a Latin American designer with an eye for simplicity and form.  This minimalist style is ideal for your contemporary urban backyard and with black high heat enamel, it will compliment any color scheme.
Convenient and Clean Operation
Cocoon fireplaces are lit and extinguished with ease.  After a simple assembly where the three legs are screwed in and secured, a burner filled with biofuel is set inside.  The burner can be surrounded with volcanic lava rocks or left as is, whichever you prefer.
Light the flames with the starter stick and a lighter.  Once the blue flames have settled into an attractive orange/yellow color, the sliding mechanism can be maneuvered to control the flame.  To extinguish the fire, simply close the sliding door to cut off the air flow. Watch the instructional video of the assembly of two different types of models below.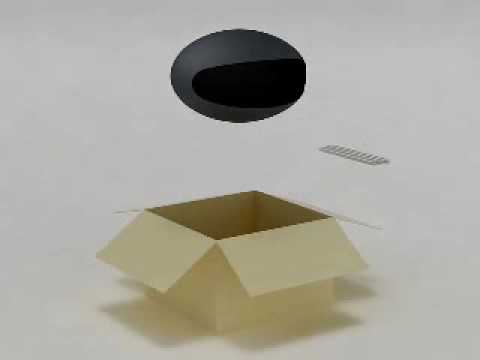 This is a versatile, modern outdoor chiminea that can travel with you.  Take it to the beach, the cottage or place it anywhere in the backyard.  Perfect on the patio, deck, the porch or even in the garden, Cocoon has built a truly portable appliance.  You also have the option to use this ecofriendly fireplace inside since the carbon dioxide released is considered to be equal to that of a candle.
Made to appeal to your sense of style and environmental conscience, Cocoon Fires standing fireplace set in black is ideal for today's home and patio.  Alongside a comfortable conversation set and enjoyed by both family and friends, this bioethanol fireplace is an investment in your decor and will create a striking focal point. Purchase today from this trusted online retailer and your outdoor space will never be the same. With free shipping and a generous discount on the Cocoon fireplace, now is the time to take your contemporary decor to the next level.