The Swineapple has taken the internet by storm! A great recipe to welcome your guests for the summer. You have got to try this this new recipe; whole pineapples wrapped in bacon and grilled on the fire pit or barbecue or roasted in the oven. Some very clever creative cook created a simple and easy and decadent lunch or dinner meal for all those foodies out there. Watch the video below, the swineapple is simply awesome!
Recipe:
6 oz pork
16 oz bacon
salted dry rub
Step 1 Coat pork in the dry rub and set to side.
Step 2 Trim sides of a whole pineapple. Skewer center and remove center portion.  Stuff with pork.
Step 3 Weave strips of bacon. Wrap outside with the weaved bacon. Skewer the sides to keep bacon in place
Step 4 Place on roasting rack on baking sheet. Roast slowly in oven or on barbecue or fire pit at 250 farenheit for 3-4 hours. Rotate the roast as it is being cooked. Get the juices flowing all over.
Step 5 Check the internal temperature. It should be about 160 degrees. Slice and serve your swineapple.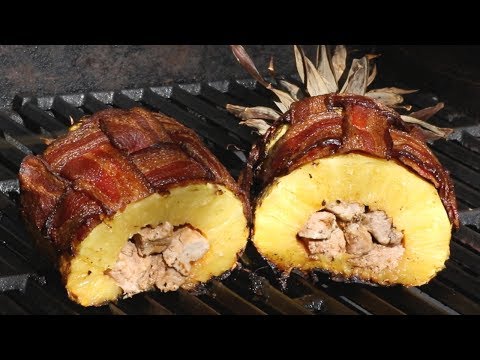 Happy summer eating!